This is for You my Friends from my little garden.

Do you remember your first post?... your first visitor?

I remember... it was June 26th / 2006.
It is here:
Welcome
and my first visitor was
Quasar9.
And I remember his comment, something like :
Very nice. Keep up!
. He treid to inspire me.
I think that first visitor is important for our future in blogging.
I learned from Quasar a lot about blogging. He was my first teacher, he inspired me to keep blogging.
He is a Master, and he is a real Man.
Thank you Quasar!

Quasar9
After few weeks of blogging, some day when I tried to modify my blog I had lost all my comments. It was very sad experience... Now, I'm very careful.
Thanks very much to all my sweet friends visitors!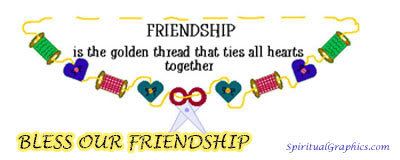 And hope the summer is treating you well despite all the gloomy news.
During my vacation time you can visit my first blog:

Your Health & Wellbeing
See you soon!
Pics from:

Spiritual Graphics